Mac's Home Page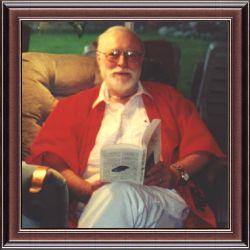 The sign at the foot of my long, steep drive says "Ty Mynydd", which means "house on a mountain" in Welsh. It is about 45 minutes outside Victoria on Vancouver Island, British Columbia, Canada. From my deck I see the Strait of Juan de Fuca, and beyond it, Mount Baker in Washington State.
Several delightful folks met on the Internet have visited, hiked the mountain on which my log house sits, walked around the lake at the bottom, and/or hot tubbed.
When in Korea I became aware of and admired the concept of the extended family. This in part is why I share the 25 acres with my younger son, who has his own house. I was pleased to find the same concept among the First Nations. (Korean and First Nation art are also compatible, I find; my home uses both.)
Not at home in Victoria's gay bar, (don't like beer and don't smoke, too old), my gay social life here (having moved here in 1990 after twenty-five years in Vancouver) has been quarterly pot-lucks for gay and bi men, attended by a few friends from Vancouver and Seattle and local people met since coming. The last pot-luck was held on January 30, 2016.
A white bearded, short, and stocky (5'8" and fluctuating around 180 lbs) bear. To see and hear me in action, go to your favorite video store and rent the movie Short Time.
Talking, theatre going, and reading are my favorite recreations.
My business partner and I have compiled a selected list of movies in which gay male characters and themes are central to the story, or have important supporting parts.
Mine is a non-smoking establishment, and my drinking is limited to the occasional wine or cider with meals. Drugs are not part of my life. Classical music usually plays as I read, nap, and putter around the place. Following a tradition learned in Korea, mine is a shoes-off household.
As a retired Unitarian minister, I very much enjoyed doing weddings.
Representing the Canadian Unitarian Council, I cooperated with the respresentatives of various faiths to create an interfaith statement in support of equal marriage rights.
Also representing the Canadian Unitarian Council, I organized the CUC's appearance before the Supreme Court of Canada in support of equal marriage rights. This if the Factum submitted to court.
I asked friend Rex Weyler to speak at the First Unitarian Church of Victoria, based on his research concerning the unique contributions of Jesus and Mary to religious values and concern for social justice.
I have retired from cataloguing, but continued as a Director of Special Libraries Cataloguing, a cataloguing outsource service formerly operated on our mountain by sons Mark and Matthew, and me. One or two cataloguers work on site, while others work at a distance, serving special libraries, including law firms.
I was asked to give my life "odyssey" for the May 2010 gathering of Canadian Unitarian ministers in Victoria.
There wasn't time to read it, but I had for distribution an account of an 1954 Atlanta bus segregation incident written by Norma.
The internet has proven a great source of entertainment and instruction. I have posted on subjects as varied as my values, the Bible and homosexuality, the etiology of gayness, and the importance of a near death experience in causing me to live my life as I do.
Last modified: Thursday, 16-Jun-2016 14:38:19 PDT